Best & Reliable Kooboo CMS 3.0 Hosting
ReliableHostingASP.NET | There are many innovative features in Kooboo CMS 3.0 that make it an ideal and comprehensive solution for enterprise users, at the same time, it is straight forward enough for regular business users. Many people who have used the system before said "this is even easier than wordpress and much more powerful"
Reliable Kooboo CMS 3.0 Hosting
Kooboo CMS 3.0 is the first and only Enterprise CMS based on ASP.NET MVC. There are many innovative features in Kooboo CMS 3.0 that make it an ideal and comprehensive solution for enterprise users, at the same time, it is straight forward enough for regular business users. Many people who have used the system before said "this is even easier than wordpress and much more powerful"
Some of the key improvements include:
1. Sitemap designer. The first web based sitemap generator where you view and modify pages directly in the sitemap.
2. Inline editing. Create and modify content easier than ever with the kooboo CMS inline editing tool.
3. Ecommerce and newsletter. Provides support to build a professional Ecommerce website and to create and send out newsletters.
4. Built in support of XML based database, MSSQL, RavenDB and MongDB, allowing you to create high performance websites.
Kooboo CMS was first released in August 2009 at codeplex.com as a Chinese contribution to the open source community. The unique solution to the multilingual problem makes this CMS a reliable solution for many multinational companies. It has been adapted by multiple organizations in France, the Netherlands, and other countries, and was accepted into the Microsoft Web Application Gallery as a content management software.
What is new in Kooboo CMS 3.0
HTML based UI instead of old JavaScript based
Visual sitemap and site cluster
Xcopy and incremental deployment
Razor and Nvelocity view engine
Easier and quicker content management
Media library
Inline page designer
Inline content editing
URL customization
Code helper
Data query designer
Performance improvement, Supports of MongoDB, RavenDB, MSSQL, SQLCE, Mysql and XML based database.
Workflow
Content broadcasting for multilingual website
Full text search
HostForLIFEASP.NET – Reliable Kooboo CMS 3.0 Hosting Solution
HostForLIFEASP.NET is one of the leading providers of Kooboo CMS 3.0 Hosting services for providing complete strategy to your cyber problems concerning web hosting, e-commerce and cloud hosting working throughout 24×7. This year group commemorates 10 years of the successful existence. The most important plays a part in this success happen to be authentic and relevant solutions of questions pertaining with web, service of experts, friendly customer services and finally the final although not least reasonable charges for qualitative services.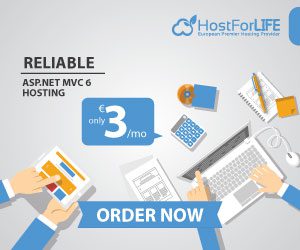 The key reason utilizing web hosting services of HostForLIFEASP.NET is it provides consistent and protective web hosting services through the use of beautifully shaped data centre that results severance and backup system up to 100%. Every one of these services are finished by team of professionals who are experts in their respective fields and are dedicated to deliver better of remarkable ability.
HostForLIFEASP.NET guarantees the highest quality product, top security, and unshakeable reliability. They carefully chose high-quality servers, networking, and infrastructure equipment to ensure the utmost reliability. They hired an army of the best technicians, managers & web hosting gurus. That means clear, professional support, fast. Their team are standing by to respond to your queries around the clock, big or small, and we'll be there for you – 24×7, 365 days a year. They have included ASP.NET framework support on all their hosting plan. ASP.NET website is 100% compatible with IIS web server. You can mix your website with different languages regardless of ASP, ASP.NET, PHP or even CGI. All in one hosting plan.